Special Sake at Some Very Special Prices

We want to let you in on some good deals on some very special sake.  They're ones that are near and dear to our hearts, so we're excited to be able to get them at a discount from our distributor and pass those savings along to you.  Our distributor is offering us a discount based on volume, so we're hoping to harness some group purchasing power with your kind cooperation.
The tasting notes and pricing details are as follows:

Born "Gold" Junmai Daiginjo
Brewery: Katou Kichibee (est. 1860)
Region: Fukui
SMV: +1
Type/Polish Ratio: Junmai Daiginjo/50%
Tasting Notes: Brilliant, shiny gold color due to lack of charcoal filtration. Cinnamon and candied ginger in the nose. Full, soft, voluptuous mouthfeel. Good balance of all flavors, with hints of apple, cinnamon, and sweet dough/pastry on the palate. Dry finish with a trace of ginger.  Aged for a year at -10 degrees Celsius!  Elegant, with definite umami, and an outstanding value for such a delicately crafted junmai daiginjo! 
Price: Was $50/720 ml, Now $42 ($40/bottle for orders of 4 or more)
Hakkaisan Honjozo
Brewery: Hakkai (est. 1922)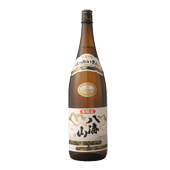 Region: Niigata
SMV: +5
Type/Polish Ratio:Honjozo/55%
Tasting Notes: Smooth and balanced.  Soft and light, yet rich in umami.  Ripe persimmon and pumpkin notes in nose.  A subtle sweetness makes it drink sweeter than the +5 SMV suggests.  Consistently ranked in the top 5 most popular honjozo in sake pubs throughout Japan (and Johnnie's favorite honjozo!), though due to limited production and distribution, Hakkaisan is difficult to acquire, and in Seattle you can only get it one place . . .
Price: Was $48/720 ml, Now $40 ($38/bottle for orders of 4 or more)
If you're interested in purchasing either (or both!) of these sake, please contact us ASAP and by noon Thursday, August 7 for Friday, August 8 availability.
Meet the Distributor Sake Tasting