Junmai: Normally inferring that the rice used to brew the sake is milled to at least 70% of its original size, the Gohyakumangoku rice used in this brew was milled to the junmai daiginjo level of 50%!
Shiboritate: "Freshly pressed."  I'll say -- this sake was bottled and shipped in July!
Honnama: This is a funny, kind of redundant term meaning "real(ly) unpasteurized," to distinguish it, we suppose, from those sake that are pasteurized once or even twice (the industry norm).

Genshu: "Cask strength," or "undiluted."  At 17-18% alcohol, let's just say it makes its presence felt.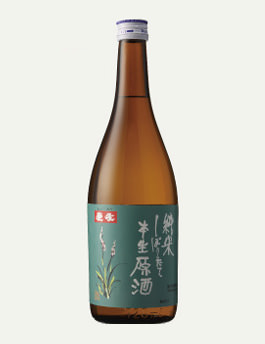 Our tasting notes:  A rich sunflower gold coloring, with mildly sweet fruity notes (white peach, lychee, nectarine) in the nose.  Soft, luxurious mouthfeel with a tingling (piri piri, in Japanese) effervescence. Elements of fruity sweetness, tartness, and minerality are expressed, with mild dryness and astringency in the finish.  Terrific balance of flavor, and definite umami.
Price: $50/720 ml bottle; $15/4 oz. glass
Since we sold the first case-and-a-half of Aiyu before it even arrived, you can still be one of the first folks in Washington to be able to taste it for yourself, so come on down!
Gouriki Muroka Namazake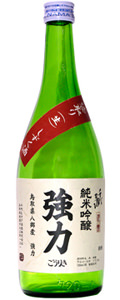 This was one of the beauties that was featured and subsequently sold out during Tuesday's "Meet the Brewers" tasting.
Our notes:
Very rich marigold coloring with candied tropical fruit (pineapple,
mango) in the nose.  Bold, yet soft, with a chewy, full mouthfeel and pleasant viscocity.  Surprisingly dry finish.
Price: $55/720 ml bottle; $15/4 oz. glass
Isojiman Junmai Ginjo
On our "wish list" for a long time, we managed to get our hands on the first shipment of Isojiman Junmai Ginjo last autumn.  It is
a dark straw/hay colored sake, featuring aromas of apple, grape, and a bit of dates.  Its super full, plump mouthfeel is nicely contrasted with absolutely perfect acidity. Drinking somewhat fruitier than what its +5 SMV would lead you to believe, this sake is very well-suited to wine drinkers who may not yet have been exposed to premium sake.  Quite simply, Isojiman Junmai Ginjo is one of the best sake we've tasted in the last couple years.
Price: $62/720 ml bottle; $18/4 oz. glass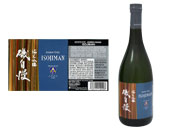 Due to limited availability (this is the first time in a year we've beenable to get our hands on it!), we only have access to a couple cases of this sake, and it will be certainly be snapped up quickly by alert (and thirsty!) nomidachi this year.  Since we just found out about its availability last night, we'll have a few bottles knocking about the shop this weekend and will plan on receiving another delivery Tuesday, October 7.  
We hope you'll have a chance to stop by and taste Isojiman Junmai Ginjo for yourself this weekend, but if you don't and would still like to reserve a bottle or two, please get in touch by noon Monday, Oct. 6 (phone: 206-467-7253/e-mail: info@sakenomi.us), and we'll secure you a stash!
And, back by popular demand:
Hitachino Nest Dai Dai Ale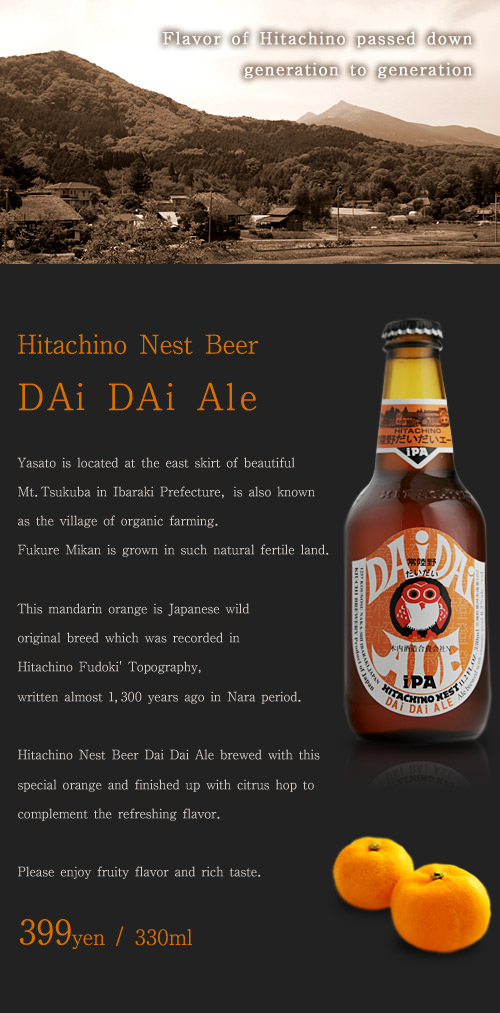 During her trip to Japan last April, Taiko had the good fortune of meeting with the kind folks at Kiuchi Shuzo, brewers of Kikusakari sake and Hitachino Nest beer.  She came back raving about this delicious beer, brewed with mikan oranges native to Ibaraki prefecture.  There's not much of this beer available here in Washington, but we have a couple cases that arrived yesterday, so please don't miss the opportunity to quaff a few.