Rare, Delicious Sake Arrivals 
Come taste & purchase while you can!
We have some extremely rare namazake (unpasteurized sake) arriving today in very limited qualities.  Once we're open at 2 pm this afternoon, we suggest running (NOT walking) to the shop to get in on:
Eiko Fuji Namazake Junmai Ginjo
From the brewers of Saké Nomi favorite/workhorse Banryu ("10,000 Ways") this namazake will eventually be available year-round.  
However, it has not yet been added to our Washington distributor's portfolio, but they have sent us a "preview" batch from their Oregon warehouse.  
According to the importer, it is "yeasty on the nose; green apple and rock candy on the palate, with a soft, fading finish."  So delicious, I can't find my tasting notes on the sample we tried, which means we simply enjoyed it!  
Only 6 bottles will be available in this initial shipment (first come, first served). 
Price: $68/720 ml bottle (Limit: One per customer, this time around.)
Denshin Natsu "Summer" Daiginjo Namazake
We're super excited to be able to get our hands on a case (12 bottles)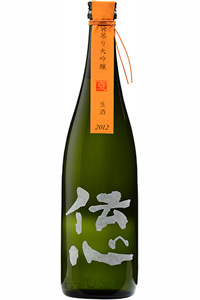 of this extremely rare seasonal release.  From the brewers of the savory Haru "Spring" seasonal release namazake, Natsu is brewed with Yamada Nishiki rice milled to 50%, and the mash is pressed in a low-yielding gravity drip process known as
fukuro tsuri
(lit. "hanging bags").
According to the brewer, it has a "fruity aroma and transparent feeling when it goes down your throat."  That is a direct quote; we are not making this up.
Price: $60/720 ml bottle (Limit: Two per customer, this round)