Daishichi Sake Brewery (est. 1752) is well known in the Japanese premium sake world for their exquisitely made kimoto sake and their pioneering developments in rice milling technology.
When we first opened Saké Nomi in 2007, we had access to some of their excellent brews, but with some shuffles on the distribution side, Daishichi has been unavailable to us in the past few years.
Things are looking up now, though, and with a little luck we will soon be able to pour and sell a wide range of Daishichi sake.
The first selection that's been made available to us in Washington is a junmai daiginjo, Minowamon.
Here's how Daishichi describes it:
"This junmai daiginjo sake, brewed by the traditional kimoto method, was the first in Japan produced using the super-flat rice-polishing technique developed by Daishichi to achieve the total elimination of all components that might result in undesirable flavors. The clear taste has an underlying richness that creates a natural, elegant aroma and a gentle, mellow texture of remarkable delicacy.

"Minowamon is the name of one of the gates to Nihonmatsu castle, a beautiful structure dating from the Edo period. For two years running, this sake has gained top place in voting by kikizakeshi (Japanese sake sommeliers) in the refined sake section. It has also won consecutive gold medals in competition in the United States."
Our notes look like this: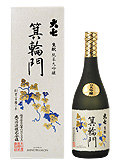 Notes of dates/figs in the nose, with apple and mineral essences.  Soft, silky, viscous mouthfeel with a kimoto tanginess.  Very delicate and refined, and an outstanding pairing with cheese.  Perhaps a "special occasion" sake, but any occasion will be special when you open this bottle.
Price: $125/720 ml bottle (10% discount on orders of 4 or more bottles)