Seasonal Namazake 
"Drink 'em, if you've got 'em!" 
According to our distributors, their supply of the super popular seasonal delights Masumi Arabashiri and Seikyo Omachi are dwindling down, but there are still a few cases available for us to access.

As such, we'll continue to feature them by the glass and sell them by the bottle until they run dry.  I think the expression from a bygone era was "Smoke 'em if you've got 'em," and we're revising that to something along the lines of "Pour 'em if you've got 'em."

Along with the savory selections on our weekly menu (and it is stellar), this Friday- Sunday, we'll be pouring these two beauties, as well as featuring them in a special "all-nama" flight.  In the opinion of many, the sake in this flight are the 3 of the best brews currently available in Washington.  (We'll keep the third one a secret, for now.)

Should you need a reminder about flavor profiles, our notes go something like this:



Seikyo Omachi Namazake Tokubetsu Junmai
Soft & citrusy, with a luxurious, almost viscous mouthfeel.  Notes of grapefruit and lemon throughout, creating a wonderful, beguiling contrast between the sharpness of the acidic citrus elements and the silky texture.  Traces of minerality and astringency on the edges make it an ideal pairing for oysters on the half-shell.

Brewed with Omachi rice, the oldest recognized sakamai ("saké rice"), discovered at the tail end of the Edo era (1603-1868).  Omachi is often referred to as maboroshi, meaning "phantasmic" or "mystical," having to do with the difficulties involved in cultivating it and the superlative saké it can produce.
Price:  $52/720 ml bottle


Masumi Arabashiri "First Run" Junmai Ginjo Nama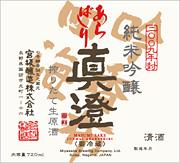 Genshu Without a doubt, our most popular "seasonal" namazake, Arabashiri means "first/rough run," and is the first bit of free-run sake that comes out of the old fashioned fune press (the one that looks like a big tub, and into which the fermented mash is placed in cloth bags).  Since no pressure is applied to the sake, it can be extremely vibrant and somewhat brash, and it is just about as fresh as it gets.

Masumi Arabashiri is super fruity (melons & pears), and has a pleasantly crisp acidity.  In addition to being a junmai ginjo nama, it's also a genshu (undiluted), so at 17-18% alcohol, it packs a lovingly assertive punch.
Price: $50/720 ml bottle  
If you don't have a chance to stop by in this weekend, but are interested in trying a bottle or two, please get in touch, and we'll be glad to set something aside for you.