A Temporary Closure 
It's not PC to call it "PC," but I've got "C" in my "P"
I've been struggling a bit with how to address this, so I'll just come out with it:  I've recently been diagnosed with prostate cancer.  That's the awful, terrible news.  The good news is that we caught it early, so we can treat it.
(Quick public service announcement: Guys, you owe it to yourselves and your loved ones to stay on top of your health, so please work with your physician to get regular check-ups.  As far as prostate cancer is concerned, early detection could literally be a lifesaver!)
After researching and considering the many treatment options, I've elected to have surgery.  The surgery date has been set for Thursday, November 12 (another bit of good news: it's NOT scheduled for Friday the 13th!), and I'm confident that I'm in the care of an experienced and skilled doctor who assures me that this cancer will be little more than a "speed bump" in my life.
So, while I'm feeling comfortable with the course of action we're taking to address the cancer, I'm fairly terrified about all the peripheral stuff.  Other than having my wisdom teeth removed, I've never had surgery, but, again, all our research leads me to believe the technology is amazing and the surgery will be minimally invasive, allowing for a fairly quick recovery period.
I've been "working" (quotations intentional, because I know it looks so fun that it appears to many of you like not much of a "job") at Saké Nomi pretty much 6 days a week for most of the past eight and a half years that we've been open for business.  At times, it's been a bit of a grind, both physically and mentally, but when you own a small, very specialized business, you do what you have to do to make it work.  When people ask me what it's like to run your own business, I usually say something like, "Working for 'The Man' is certainly no fun, but being
'The Man' isn't all sunshine and lollipops."  Obviously, I most often couch it in more profane terms, but you know what I mean.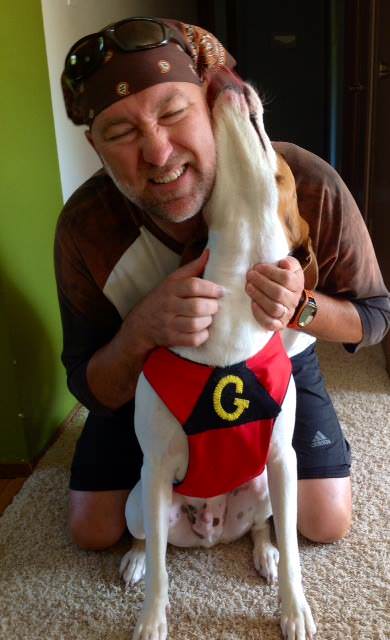 My recovery period for the surgery will be 2-3 weeks, and I'm trying to look at it as a forced vacation/sabbatical where I can take some time to stay home and rest and get my mind and body right.  I plan on doing some reading and sake-related research and listening to lots of soul-soothing music (mostly jazz and blues and reggae, I'm thinking).  
In reality, I'll spend most of the time on my back, fending off our 70-lb. coonhound-knucklehead mix, Gilligan Ginjo, who will be thinking it's Big Boys' Playtime Marathon, catheter be damned.
For the past six or seven years, I've been a one-man wrecking crew, as far as daily operations at Saké Nomi go, and since we have not yet hired any employees, that means we will have to temporarily close the shop during my convalescence - emphasis on TEMPORARILY
.  This is the decision that has caused Taiko and me perhaps the most anxiety (aside from the fact that I have cancer, of course), but we feel like it can't be avoided.
Again, since modern medicine is so amazing, and if all goes well, I should be back in action within a matter of 10 days or so, so the plan is that Saké Nomi will be closed November 11- 23
.  The best case scenario I envision is being open again beginning a couple days (11/24-25) before Thanksgiving, but even in a worst case scenario, we would open again for business on Tuesday, December 1.
This is where I have most struggled in coming to terms with everything that's going on.  I wish with all my heart that business at Saké Nomi these past eight and a half years had been so robust that we could simply close up shop without a second thought and deal with my medical situation.  However, the reality is that while we are closed and there is no commerce being conducted, there are still bills that need to be paid to address my quickly mounting medical expenses and to keep Saké Nomi afloat.  Perhaps it's pride, and maybe it's a bit of Japan-related "reserve" on our part, but we have had difficulty privately or publicly asking for help.
At the suggestion of friends, we've set up a Gofundme account in case friends and family both near and far would like to monetarily contribute to the cause.
For our dedicated nomidachi in the Seattle area, I have a simple proposal:  Please help us "load up" late- October and early-November sales by purchasing sake to get you through the week or two that we'll be closed.
If there is a sake (or plural sakes) you're interested in serving for Thanksgiving, we're glad to give you some recommendations, and we'd suggest picking it up in the next couple weeks just in case we're not open before the holiday.  In addition, we'll gladly extend the normal "case discount" of 10% on purchases of 6 or more bottles, and we hope that you'll consider that a win-win.
The most challenging/rewarding aspect of bringing Saké Nomi into existence is our difficulty in distinguishing and separating friendship from commerce.  I don't know if all small businesses are like this, but Saké Nomi is a very personal venture for Taiko and me, and most of the time we feel as if Saké Nomi is our living room, and we've been hosting a non-stop party/open house since June 2007.  Because we've made so many terrific friends and acquaintances along the way, we're sometimes reluctant to exchange our goods and services for cash.  If we were independently wealthy, and the laws allowed, we'd treat Saké Nomi as a non-profit cultural exchange organization, and as we proselytized our love and appreciation for the beverage and its unique culture, we'd pour the sake for free!
I apologize for being long-winded about this, but what I'm trying to get at is that as wrong-headed as it may be, we most often value your friendship over your business, but it's a combination of both that has allowed Saké Nomi to survive this long.  To paraphrase a little-known Japanese proverb, it has taken a village of sake drinkers to raise us to this point, and we humbly ask for your continued kind support in the months and years ahead.
Thank you so very much, and yoroshiku onegai shimasu!