Greetings, Nomidachi!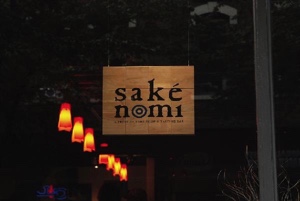 This weekend at Saké Nomi:
More Seasonal Saké 
We'll pour them while we have them, and we're pleased to announce the arrival of our newest once-pasteurized hiyaoroshi seasonal release, Wakatake Oniotome "Sachi."
 This sake has a m
ineral, sea breeze aroma, and is light and dry, with cinnamon notes throughout.  Brewed by the makers of popular
Onikoroshi
("Demon Killer"),
oniotome
is "Devil's Daughter," and the kanji used for the name
Sachi
means "dry."   The playful, manga-inspired label is fun, too.
Other limited seasonal releases we're featuring this weekend include Urakasumi Hiyaoroshi (soft and lively, with deep, resonating umami), and our new favorite, Gokyo Junmai Hiyaoroshi (vibrant and lively -- like a namazake -- fruity, juicy, and just a touch acidic). 
Kanzake: Good, Warm Sake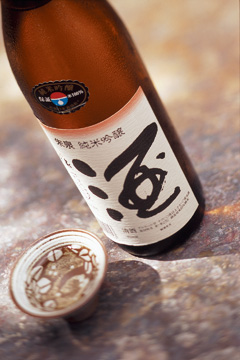 The weather (Brrrr!) is more or less dictating it, but upon the wonderful suggestion of one of our distributors, as our kanzake ("warm sake" -- very different from "bad" hot sake!) selection this weekend, we're featuring Kamoizumi Shusen, a junmai ginjo from Hiroshima.  It features dark gold coloring with earthy aromas of wet leaves, apples, and brown sugar.  Shusen has a l
ight, very soft texture and a dry impression on the palate, despite the sweeter notes in the aroma.  There's also a lingering, tangy, dry finish.  Heat it up just a touch, the
umami
comes forward, and the whole game changes!  We also think it's a great buy at $40/900 ml bottle.
Holiday Hours of Operation
For the most part, we're back to our "normal" hours of operation in the coming days, with the exceptions of:

Saturday, 12/24:  
CLOSED
due to Seahawks home game
Sunday, 12/25:
CLOSED
for Christmas
Monday, 12/26:
CLOSED
just because Boxing Day (whatever that entails) aside, it's Monday, and though Johnnie hasn't been particularly "good" this year, this 3-day weekend with the family is about the best gift he can get.
Please remember, if you need any holiday gifts for the sake lover(s) in your life, we've got a fantastic selection of bottles, glassware, books, and t-shirts, and we'll be glad to help you put something special together.

Thanks & Kanpai!
Johnnie & Taiko