Hey, Nomidachi!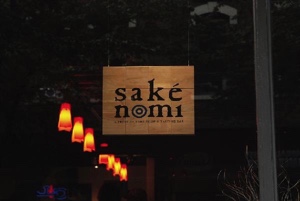 Thank you so much to all of you who were able to stop by and help celebrate our recent 9th Anniversary.  Perhaps it was the adversity of last year, or maybe Johnnie's just getting soft(er) and mushy(er) in his old age, but this time around was very emotional for us.  It was also extremely gratifying to hear from folks who feel like Saké Nomi has become a significant element in their lives.

In short, we feel encouraged and loved, and even needed, so we've no choice but to forge ahead in Year No. 10.

As the Japanese humbly express, Yoroshiku onegaishimasu, or as my favorite translation would have it, "Please continue to be favorably disposed toward us."


This Week's Schedule
Since the Fourth of July falls on Monday this year, it's business as usual for us.  We may try to sneak out a little early on Sunday, July 3 (Noon- 6ish), but for the most part we'll be here for our "normal" hours of 2- 10 pm the rest of the week.

Limited Seasonal Release Arrivals


Just in time for the beginning of summer, these extremely rare, limited production namazake (unpasteurized sake) arrived yesterday afternoon, and we already blew thru the first case and a half. We have more arriving today, and we'll be pouring them 'til the bottles run dry.





Since availability is so limited (only a few cases in the Seattle market!!), the best way to ensure you get to enjoy these warm weather treats is to order a bottle (or 2 or 3).  

The tasting notes and pricing details are as follows:


Tsukasabotan "Senchu Hassaku Reika Nama" Junmai (Kochi)              

The "glacier saké," from a brewery established in 1603. Soft and light with mild fruit notes of lychee and melon. The overall impression is "clean and cool." Long, lingering finish begins dry, but has a burst of fruit at the end. The limited run of 1500 bottles was aged at -5° C.
Price: $50/720 ml bottle.

Oyama "Nama" Tokubetsu Junmai Nama(Yamagata)                             
Slight golden hue. Soft, round mouthfeel, with flavors of cinnamon and apples. Clean, soft, and mellow, with a touch of minerality. Oyama means, "big mountain," so enjoy the ascent! 
Price: $45/720 ml bottle. 

Please Note:  10% "case" discount for orders of 6 bottles or more
Thanks for reading.  We hope you have a happy, safe, and laughter-filled holiday, and we hope to see you at Saké Nomi again soon!

Kanpai!
Johnnie & Taiko