Happy Thanksgiving!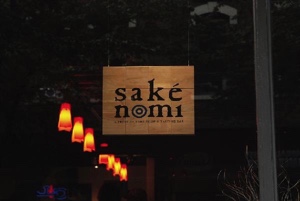 And, the year-end holiday season is upon us!

Though we're a day early, we hope you and yours enjoy a fun, relaxing Thanksgiving.  Chez Stroud, we realize we have much to be thankful for in our lives, and way up near the top of the list is the incredible group of people we've come to know these past nine-and-a-half years.  We appreciate you, Nomidachi!
Thursday, November 24: CLOSED
Just a reminder that though we will be CLOSED tomorrow in observance of Thanksgiving, we will, indeed, be open on "Black Friday," our normal hours of 2- 10 pm, as well as 2- 10 pm on Saturday and Noon- 6 pm on Sunday.

For what it's worth, we're open today 'til 10:00 pm, too, in case you need to pick up some last-minute reinforcements. 
Seasonal Hiyaoroshi Sake Has Arrived!
In addition to this week's incredible selections on our "regular" rotating menu, we're pleased to announce that the newest batch of autumn seasonal release, once-pasteurized hiyaoroshi sake has arrived, and we are featuring:
Urakasumi Hiyaoroshi Tokubetsu Junmai (Miyagi prefecture)
Soft and lively, with deep, resonating umami.  The mild spice in the pleasantly lingering finish perfectly embodies and brings to mind a crisp, mellow autumnal afternoon. 
Price: $45/720 ml bottle; $12/4 oz. glass
Otokoyama Hiyaoroshi Tokubetsu Junmai (Hokkaido)
Soft, slightly creamy texture, with steamed rice, grains, and yeast in the nose and on the palate.  Faint butter and a touch of toffee, with kimoto tanginess in the acidity and astringency.
Price: $45/720 ml bottle; $12/4 oz. glass
Oyama Hiyaoroshi Tokubetsu Junmai (Yamagata)
The importer says: "Light & smooth type. Medium dry sake with fruity aroma of pear, banana & delicious apple. Very juicy  and  mild taste with crisp acidity and soft texture."
We say: There are less than 20 bottles of this selection remaining in Washington, and Saké Nomi is getting the entire allotment!
Price: $50/720 ml bottle; $15/4 oz. glass
Also, supplies are getting low on this rare beauty, and believe us, you don't want to miss it:
Koshi no Kanbai "Muku" Junmai Ginjo (Niigata prefecture)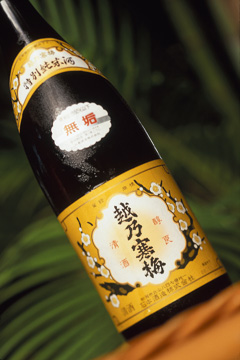 We mentioned this sake upon its recent arrival, and we don't want you to miss the chance to try this bonafide "Niigata classic."  It features rich fragrances of koji, miso, dough, and yeast.  Softly textured and vaguely mineral on the palate, it shows mild astringency on the edges before its dry-ish finish.  Highly prized and much renowned in Japan, Muku is complex enough to satisfy the connoisseur, yet straightforward enough to be a great introduction to sake beginners.  Price: $115/1.8L bottle; $56/720 ml bottle
Thanks again for being part of our lives.  Best wishes for a delightful Thanksgiving holiday!

Thanks & Kanpai!
Johnnie & Taiko