Hey There, Nomidachi!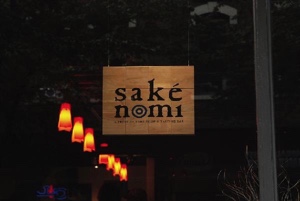 We've had some pretty exciting developments of late, including updating our POS (no, it doesn't stand for what you think it stands for: it's "point of sale") system, and we'll appreciate your patience as we kind of learn it on the fly.  It'll be well worth it, we promise.
Much more exciting developments continue to take place regarding our access to great new sake.  We're unveiling a bunch on this week's menu (half of which are unpasteurized namazake), including:
Gokyo
Junmai
Namazake (Yamaguchi)                                              Brand new to Washington limited seasonal release! Thin golden tint with notes of citrusy melon and freshly baked bread in the nose. Bright, vibrant, vivacious, and acidic, with a light, soft texture and vague minerality.  Fruity, yet dry at the same time.  However, like Bob-san's translator in Lost in Translation, the description that comes to mind is, "Intensity."
$45/720 ml bottle (10% case discount on quantities of 6 or more bottles)


Tsukasabotan "Senchu Hassaku Reika Nama"
Junmai
(Kochi)                                

 Limited seasonal release! The "glacier saké," from a brewery established in 1603.  Soft and light with mild fruit notes of lychee and melon.  The overall impression is "clean and cool."  Long, lingering finish begins dry, but has a burst of fruit at the end.  The limited run of 1500 bottles was aged at -5° C.  
$50/720 ml bottle (10% case discount on quantities of 6 or more bottles)



Oyama "Nama"
Tokubetsu Junmai
Nama (Yamagata)
Limited seasonal release! Slight golden hue.  Soft, round mouthfeel, with flavors of cinnamon and apples.  Clean, soft, and mellow, with a touch of minerality.  Oyama means, "big mountain," so enjoy the ascent!
$45/720 ml bottle (10% case discount on quantities of 6 or more bottles)



We anticipate bringing in extra inventory of all the limited seasonal sake mentioned above this Friday.  If you are interested in ordering a bottle or two or three or more (Please don't forget we've instituted Phase One of the 4-year "Buy a bottle, send a kid to college" campaign), please let us know by Noon on Thursday, August 24, and the bottles will be available in-store on Friday, August 25.
Thanks so much for your continued support and friendship!

Arigatou, and Kanpai!
Johnnie & Taiko