Happy New Year, Nomidachi!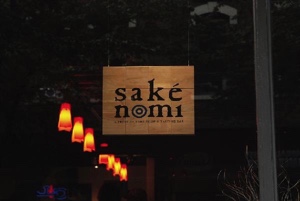 We hope you and yours enjoyed a delightful holiday season to close out 2016.

We're excited about the challenges and changes that 2017 will no doubt bring, and we appreciate you having been along for the ride thus far.

In a rough (but favorite) approximation of the traditional Japanese new year greeting, we humbly request that you be favorably disposed toward us during 2017.

We'll be celebrating our 10th anniversary at Saké Nomi this summer!  Can you believe it?!
Top 10 (or so) Saké of 2016 
It's always fun for us to take a look back and see which sake have been most popular or made the strongest impact in the past year, so here's a quick list of the best sellers (retail bottle sales, that is) of 2016:
1.   Seikyo Namazake (spring seasonal)
2.   Denshin "Natsu" Daiginjo Namazake (summer)
3.   Masumi Arabashiri (spring)
4.   Isojiman Junmai Ginjo
5.   Kubota Suiju Nama Daiginjo (technically summer, but featured this weekend!)
6.   Denshin "Haru" Namazake (spring)
7.   Joto Daiginjo
8.   Kuro Kabuto "Black Samurai Helmet" Junmai Daiginjo
9.   Kagatobi Muroka Namazake (spring)
10. Isojiman "Omachi" Tokubetsu Junmai

As you can see from this quick rundown, the limited seasonal release unpasteurized namazake are crowd pleasers (the spring releases should be right around the corner).  Every year when I take a look at this "greatest hits" list, for some twisted reason, I'm reminded of Tiger Tanaka's condescending comment to James Bond in You Only Live Twice:  "You have very refined taste for a Westerner, Mr. Bond."

Seriously, though, those are some pretty special selections you've been enjoying, nomidachi.  Good on you!
Weekend Hours of Operation
While the Seahawks are at home this weekend, fear not:  we will be open and slinging the good stuff.  Our hours are:

Friday, January 6:  2- 10 pm
Saturday, January 7: 2- 10 pm
Sunday, January 8: 2- 6 pm
We will be watching the game on Saturday (kickoff around 5 pm), so if you prefer sake with your football and want to be relatively close to the action, please join us in the cozy confines of your Seattle sake oasis.  Though the Lions are in town, it only pains me a little as a native Michigander to say, Go 'Hawks!

New Year, New Menu
As is our custom, every week we do our best to rotate the selections on our glass pour menu, in the hope that we will expose folks to some undiscovered delights.  Some featured selections from this week's list include:

Choryo Yoshinosugi no Taruzake (Nara prefecture)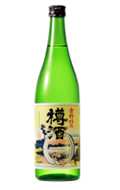 Cedar barrel-aged taruzake just feels right when welcoming a new year, and we think this is one of the tastiest currently available in Washington. With deep, rich wood aromas and chocolate in the nose, and notes of maple and brown sugar sweetness on the palate, this is the first taruzake to have been bottled for commercial sale, back in 1964. 


Gokyo Junmai Hiyaoroshi (Yamaguchi)
Easily the most popular of the seasonal release, once-pasteurized hiyaoroshi sake, this is a new favorite.  With notes of cantaloupe and honey in the nose, it's vibrant and lively (like a namazake), fruity, juicy, and just a touch acidic, with a clean, dry finish.

Koshi no Kanbai "Muku" (Niigata)
One of the highlights of 2016 was the long-awaited arrival of this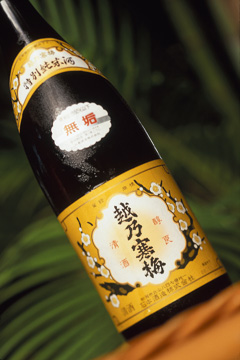 Niigata classic.  Muku has rich fragrances of koji, miso, dough, and yeast.  Soft textured and vaguely mineral on the palate, it shows mild astringency on the edges before its dry-ish finish.  Highly prized and much renowned in Japan, Muku is complex enough to satisfy the connoisseur, yet straightforward enough to be a great introduction for sake beginners.

And, as an added "bonus" . . .

Kubota Suiju Daiginjo Namazake
As briefly mentioned above, this sake was a super limited (first time in the US!) "summer" release that didn't reach our fair shores until October or so.  Originally, there were only 2 cases available in Washington, and we sold the whole lot right away.  Fortunately, our distributor has managed to get his hands on a few more bottles and we're excited to be able to make Suiju available to you for purchase by the glass and by the bottle this weekend. ($15/2 oz. glass; $25/4 oz. glass; $100/720 ml bottle)

To give you an idea of what Suiju is about, when Taiko and I cracked a bottle, I intended to write some detailed notes.  I started off with " gently sweet; soft; delicate," and at some point gave myself over to the pure luxurious enjoyment of it, ending my notes with "ethereal — hard to describe."  Yeah, it's like that.

Thanks very much for reading.
Kanpai!
Johnnie & Taiko