Konnichi wa, Nomidachi!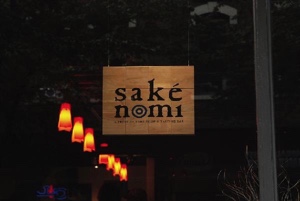 We hope you're enjoying your summer sake sipping and that you and yours are healthy, wealthy, and wise.  Or whatever.
As I've mentioned in other recent newsletters, we've had a lot of stuff going on Chez Stroud, what with unleashing our girls on the rest of the world (WATCH OUT!) and Saké Nomi's 10th anniversary and the various implications that accomplishment carries with it.  As a result, I've felt more scatter-brained, thin-skinned, and emotional than normal.

A week or so ago, the day after we sent Sasha and Jazzy off to France for a month-long exchange program, I had a follow-up appointment with the doctor who performed my cancer-related surgery back in November 2015.  Nothing but good news.  So much so that the good doctor told me, "There's nothing else I can do for you."  In a good way, mind you.
All the same, I left the appointment and did a little cursory research on my particular cancer (prostate, Stage 3), and I was reminded how serious my situation and an alternate outcome was.  At the time of my diagnosis and surgery, everything seemed to happen so quickly that I was a bit numbed and emotionally detached, so that even now, two years later, the realization of what might have been periodically comes down on me like a ton of bricks.

Anyway, at the end of that day's reflection, my (profound) philosophical conclusion was, "I'm just happy to be here."

I was reminded of it again the other day, when one of my favorite customers sitting at the bar said, "I'm so glad this place exists."  I thought, "Me, too, Buddy.  Me, too."

Now, on to the fun stuff . . .
New Saké Tasting: Daishichi Yukishibori Nigorizake
Please join us this weekend, July 21-23, as we introduce a fantastic new "cloudy" nigorizake, Daishichi Yukishibori Nigori.


The first ever kimoto-style sparkling nigorizake introduced to the domestic Japanese market in 1994, Yukishibori is lightly sparkling and has aromas of pears and white peaches. It is light, clean, and faintly mineral on the palate. 

Johnnie's tasting notes declare enthusiastically, "Here is your champagne for oysters!" 

From Daishichi's Facebook page: "Daishichi went against the trend at the time of producing thick and sweet nigori and sparkling sake and designed Yukishibori Nigorizake to be lightly cloudy and more dry so that it works well not only as aperitif but also a versatile partner to food. Featuring fruit-like elegant sweetness and soft bubbles as well as the typical umami and acidity of kimoto sake, Yukishibori Nigorizake matches superbly with such foods as sautéed meat, spicy dishes, tempura and bitter spring vegetables."

Tasting Event Hours:
Friday, July 21: 6- 10 pm
Saturday, July 22: 2- 6 pm
Sunday, July 23: 2- 6 pm

We hope you have a chance to join us and enjoy this uniquely refreshing treat.
Limited Seasonal Release Arrival: Denshin Natsu
Denshin Natsu "Summer" Daiginjo Namazake
Denshin puts out a different namazake bearing each season's name.  Natsu

("Summer") is a gravity-dripped daiginjo made from top quality Yamada Nishiki rice milled to 50% of its original size.  Here's what the importer has to say about it:
"This is a limited seasonal product from DENSHIN series for summer. A Daiginjo Namazake (Unpasteurized) which is pleasant fruity aroma, and transparent feeling when it goes down your throat. For the pressing process, we use "FUKURO-TSURI". This method is to let the bags which each contain 10L of moromi hang inside of the tank, so that gravity is the pressure. We collect only dripping liquid and bottle it."
Our tasting notes look like this: "One of Saké Nomi's most popular limited seasonal releases.  Sunflower yellow tint with notes of honeysuckle, chamomile, and roasted marshmallow in the nose.  Soft, creamy mouthfeel, with significant weight.  Rich, mellow, and clean, but with a hint of smokiness."
Price: $60/720 ml bottle (10% discount on orders of 6 or more bottles)
In-Store Availability: Tuesday, July 25
Order by: Noon, Sunday, July 23  (Note:  Availability on this item is super limited and we WILL sell out!)
Featured Sake on This Week's Menu
Kubota Ginjo Genshu (Niigata)
Limited seasonal release!  Very faint golden tint with notes of Asian pear and cream in the nose.  Soft, moderately full mouthfeel, with sweetness and roundness in the beginning palate, giving way to a drier, lingering genshu tingle in the finish.  $45/720 ml bottle


Kasumi Tsuru Yamahai Junmai Ginjo (Hyogo)                                  
Citrusy, floral aromas.  Light, soft, clean, subtle, and semi-dry when chilled, this sake expresses more depth and savory characteristics when gently warmed.  We're digging it in that room temperature to nurukan (lukewarm) range.  Terrific pairing with cheese and dishes with creamy sauces.  $48/720 ml bottle
Thank you, and Kanpai!
Johnnie & Taiko