Hey There, Nomidachi!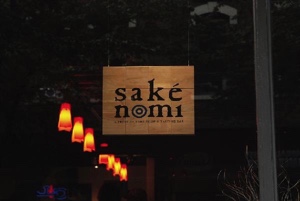 We'll keep this short and sweet, but we hope you'll have a chance to stop by the shop soon to partake in some of the incredibly delicious and rare sake we're currently featuring.  We've got an extra special guest showing up for a tasting next week, too . . .
This Week's Schedule
As is our tradition, we will be 
CLOSED
Sunday, June 18 in observance of Father's Day, but, more importantly, to attend one of Jasmine's last ballet recitals.  The Wonder Twins are graduating from high school on Saturday, as well, so if Johnnie seems even more mentally out of sorts than usual, please be gentle on the old guy.  Also (and this should go without saying), please drink MORE premium sake.
Featured Rare, Seasonal and New-to-WA Sake
This week's featured glass pour menu is, in a word, stacked.  Just to mention a few of the selections:


Shichida  Junmai Ginjo Muroka Nama Genshu (Saga)                                                Very limited seasonal release!  Pronounced amber tint and fragrances of white peaches and melon in the nose.  Lively, acidic, and incredibly fresh – nearly effervescent.  The texture is soft, but the flavor is sharp.  In short, "The collected tears of joyously weeping angels."  $80/720 ml bottle


Kubota Suiju Daiginjo Namazake (Niigata)                                                                           Very limited seasonal release introduced to the US market last year.  Mild grapefruit aroma.  Gently sweet, soft, and delicate, with low acidity.  Ethereal and damn near perfect – get out of your head and enjoy it!  $80/720 ml bottle


Tentaka Organaka Junmai  (Tochigi)                                                                                

Brand new to Washington and certified organic!  Rich golden coloring.  Complex nose featuring notes of herbal and grassy aromas, as well as ripe banana, brown sugar and roasted nuts.  Mild yamahai astringency and good, solid body.  A good "food sake," particularly suited to dishes featuring miso.  $45/720 ml bottle
SAKEMAN Tasting Event: Tuesday, June 20 @ 6 pm
Please join us next Tuesday at 6:00, as we welcome back that masked maniac, Sakeman Green, for a special tasting featuring some of his favorite brands: Shichida (Saga prefecture), Fukuju (Hyogo), and Shinsei (Kyoto).


Thanks very much for reading, and thank you for your kind support.  

Kanpai!
Johnnie & Taiko