Greetings, Nomidachi!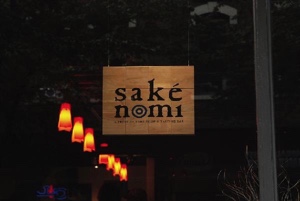 We hope your weekend was good to you and that you are as excited about Tuesdays as we are.  Why are we so psyched?  Because, Tuesday is the day we change our rotating sake menu, and this week (for perhaps only the second time in our nearly 10-year history) we are featuring a lineup of all incredibly fresh, limited seasonal release, unpasteurized namazake.

And when we say, "limited," we mean extremely limited in the sense that the brewers don't produce much of these seasonal sake, very little makes its way to Seattle, and we only have access to a couple dozen bottles.

By all means, we encourage you to come down this week and try a tasting flight, but if you're unable to make it and are interested in ordering a bottle or two, pricing and order scheduling information follow below.

Please Note: Most of the spring namazake we're featuring this week have never been available in Washington before (and we haven't had a chance to taste them yet!), so I don't have much specific info to pass on to you.  Just know that they are all from trusted breweries and distributors.

One of our local distributors was told by the importer that all the new sake are unpasteurized nama "versions" of their standard sake, so where appropriate I have provided a link to those sake.
Otokoyama "Man's Mountain" (Hokkaido) @ $45/720 ml
Aromas of fresh linen, bamboo leaf, and whole grain banana bread.  Clean and direct on the palate, with a hint of cream.  On the dry side, with a bit of spice in the delayed finish.  There's also a polar bear on the label, which is nice.  Featured this weekend, March 10-12.
 
Koshi No Homare (Niigata) @ $40/720 ml
Last year's batch tasted something like this: "Elements of rice and yeast in the nose.  Entry is quiet and soft, but then the brashness and boldness of the genshu (undiluted saké) makes its presence known.  A coating, dairy-like, "feel the heat" spread to the finish.  Direct and unostentatious; it's all about the character of the local rice."


Ama No To "Heaven's Door" (Akita) @ $50/720 ml
http://www.vineconnections.com/japanese-sake/grades/junmai-honjozo/heavens-door/

Fukucho "Moon on the Water" (Hiroshima) @ $55/720 ml
http://www.vineconnections.com/japanese-sake/grades/junmai-ginjo-ginjo/moon-on-the-water/


Rihaku "Origins of Purity" (Shimane) @ $60/720 ml


We are super excited about this one: it's one of Johnnie's new favorites!  With a fairly pronounced golden tint, it features aromas of peach, mango, kiwi, nectarine, and a touch of mint.  Silky, soft mouthfeel, with citrusy flavors of young fruit on the palate.  The richness and depth of flavor are outstanding, and the sake's overall impression is of being substantial but not overpowering.  In other words, Yum!





Pricing:  As noted above, and 10% "case" discount for orders of 6 or more bottles.

Order by: Noon, Thursday, March 9 for in-store availability on Friday, March 10.
 
Thanks for reading, and Kanpai!
Johnnie & Taiko