Konnichi wa, Nomidachi!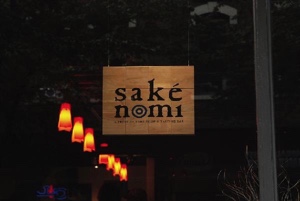 Here's a quick rundown of some very special sake (and scheduling) happening this week at Saké Nomi.
This Week's Schedule
While we will be
CLOSED
tomorrow, May 24 to attend one of the Wonder Twins' last high school events, we will be open "regular" hours throughout the rest of the week, including being
OPEN
Sunday, May 28 from Noon to 6:00 pm.
Featured Rare & Seasonal Sake
We've got a plethora -- bordering on an embarrassment of craft-brewed riches -- of limited release and unpasteurized sake at our disposal, for 'tis that season.  All the selections mentioned below are available in very limited quantities here in the U.S., and we're super excited to be able to share them with you (by the bottle and by the glass) for a short time.

The not-so-subliminal message here is that you don't want to hesitate and possibly miss your chance to experience these distinctively delicious brews.
Seikyo "Omachi" Namazake Tokubetsu Junmai (Hiroshima)             One of

our most popular seasonal selections!  Soft & citrusy, with a luxurious, almost viscous mouthfeel.  Notes of grapefruit and lemon throughout, creating a wonderful, beguiling contrast between the sharpness of the acidic citrus elements and the silky texture.  Traces of minerality and astringency on the edges make it an ideal pairing for oysters on the half-shell.  Absolutely perfect thirst quencher during warmer weather.
Brewed with Omachi rice, the oldest recognized sakamai ("saké rice"), discovered at the tail end of the Edo era (1603-1868).  Omachi is often referred to as maboroshi,meaning "phantasmic" or "mystical," having to do with the difficulties involved in cultivating it and the superlative saké it can produce.
Price:  $55/720 ml bottle (10% discount on orders of 6 or more bottles)
ETA: In stock now
Masumi Arabashiri Junmai Ginjo Nama Genshu
Saké Nomi's most popular limited seasonal release returns!  Fruity (melons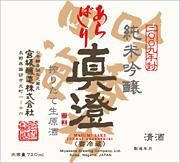 and pears) and full-bodied, with a pleasantly crisp acidity.  This nama (unpasteurized) genshu (undiluted saké) also packs a lovingly assertive punch at 17-18% alcohol.
Price: $50/720 ml (10% discount on orders of 6 or more bottles)
ETA: In stock now
Shichida Junmai Ginjo Muroka Nama Genshu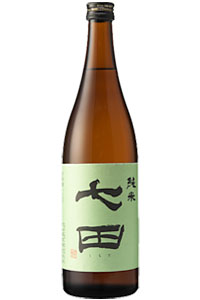 This will be a brand-new-to-Washington arrival, and we couldn't be more excited.  The green label Shichida Junmai has been a favorite since we got access to it a couple years back, and this will be the first namazake from Kyushu we've been able to procure.  I only tasted a 2 oz. sample of it a couple months ago, but it really knocked me out.  Intensely lively and flavorful, but with an elegant vivaciousness.  'Sorry if the description is a little vague and over the top, but it made a forceful impression, and I have yet to spend some "quality time" with a bottle and do some notes.  Again, if you're a fan of the junmai, I think you'll be well pleased.  Because it's a little pricier than most namazake, the distributor made a very conservative order with the importer, so it will be in scarce supply, and again, we will pour and sell it 'til it's gone.
Price: $80/720 ml bottle (10% discount on orders of 6 or more bottles)
ETA: In-store Friday, May 26
Hakkaisan Yukimuro Junmai Ginjo
As you may be aware, Hakkaisan is one of the most famous and revered brand names in the Japanese sake brewing world.  Their sakes are consistently among the most popular and highly rated brews in sake specialty pubs throughout the country.
A yukimuro is a snow igloo of sorts that has been used for centuries as a method to preserve foods year-round.  Hakkaisan has matured this junmai ginjo in their yukimuro at an approximate temperature of 3 degrees Celsius for three years.  I was able to taste a small sample a couple months ago, and it tasted like divinely delicate and mildly fruity melting snow.  

This sake was only recently released in Japan, and the volume exported to the U.S. is miniscule.  Our distributor managed to get us a case when it first made its way to our shores, and it was immediately snapped up by our nomidachi "in the know."

More details about the sake and process can be found here: http://www.hakkaisan.com/our-products/junmai-ginjo-hakkaisan-yukimuro-chozo-3-years/
Price: $110/720 ml bottle
ETA: In-store Friday, May 26
Thanks very much for reading.  We hope to see you again at Saké Nomi very soon.

Kanpai!
Johnnie & Taiko