Hey there, Nomidachi!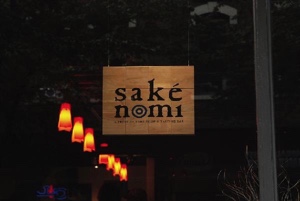 Just a quick missive to let you know that we're back to a "normal" schedule this week, so we'll continue pouring the good stuff throughout the weekend.
In case you were curious, and you like sake with your Seahawks (and who in their right mind doesn't?), we will be here Sunday afternoon, and since kickoff is around 1:25 pm, we will have the game on.
Featured Sake:
Good news/Bad news scenario.

While it's true that the clock is running out on the availability of limited seasonal release "summer" unpasteurized namazake (that's the bad news), we still have some lovely varieties available for you to taste on this week's menu (the good news), and we intend to keep pouring and selling them until they're gone.

Here's a quick peek at how this week's menu looks:

Tsukasabotan "Senchu Hassaku Reika Nama" Junmai (Kochi) Limited seasonal release! The "glacier saké," from a brewery established in 1603.  Soft and light with mild fruit notes of lychee and melon.  The overall impression is "clean and cool."  Long, lingering finish begins dry, but has a burst of fruit at the end.  The limited run of 1500 bottles was aged at -5° C.  $50/720 ml bottle
 


Gokyo Junmai Namazake (Yamaguchi)                                                   Brand new to Washington limited seasonal release! Thin golden tint with notes of citrusy melon and freshly baked bread in the nose. Bright, vibrant, vivacious, and acidic, with a light, soft texture and vague minerality.  Fruity, yet dry at the same time.  $45/720 ml bottle

 
Oyama "Nama" Tokubetsu Junmai Nama (Yamagata)                     Limited seasonal release! Slight golden hue.  Soft, round mouthfeel, with flavors of cinnamon and apples.  Clean, soft, and mellow, with a touch of minerality.  Oyama means, "big mountain," so enjoy the ascent!  $45/720 ml bottle

 
Taka Tokubetsu Junmai (Yamaguchi)                                                       Fairly

pronounced gold coloring, with subtle white pepper aroma. Mineral, spicy, and a touch sour on the palate, with a slightly grainy texture and good weight to the mouthfeel.  Full-bodied and dry finish.  $45/720 ml bottle
 




Kawatsuru Junmai (Kagawa)                                                                     Light gold coloring, with tropical fruit (mango), mint, and mildly herbal notes in the nose. Soft texture on the palate, beginning on the savory, umami end of the spectrum, but progressing toward a dry finish. Satisfying and interesting, taking the drinker on a bit of a journey.  $42/720 ml bottle

 
Wakatake Onikoroshi "Demon Killer" Junmai Ginjo (Shizuoka)  Sweet, creamy, and floral aromas.  Quiet impact, soft and smooth, with fairly full mouthfeel.  Mild apple sweetness with crisp acidity and a dry, spicy finish.  Drink it to slay your personal demons!  $82/1.8 L bottle; $40/720 ml bottle


And, please don't forget, we have so many more spectacular bottles on the shelves, just waiting to be taken to their (temporary) forever homes.  Obviously, Johnnie's been watching too many puppy adoption videos lately . . .

Thank you for reading, and Kanpai!
Johnnie & Taiko