Greetings, Nomidachi!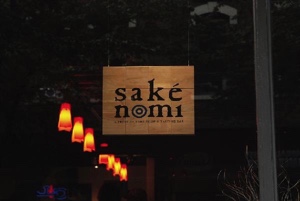 While you may sense some deja vu from this brief missive, and at the risk of repeating ourselves, we want to point out the fleeting availability of some of our most popular seasonal release namazake.  Also, we've got some funky hours this weekend.
Weekend Schedule:
CLOSED
Saturday, April 14
But WIDE open on Friday (4/13) and Sunday (4/15).  Please adjust your sake consumption schedules accordingly.
Spring Namazake Arrivals 
(In store and featured on the current menu NOW!)



Rihaku "Origins of Purity" Junmai Ginjo Nama Genshu (Shimane)                
Introduced to Washington last year, and one of Johnnie's new favorites!  Fairly pronounced golden tint, with aromas of peach, mango, kiwi, nectarine, and a touch of mint.  Silky, soft mouthfeel, with citrusy flavors of young fruit on the palate.  Richness and depth of flavor with an overall impression of being substantial but not overpowering.
$60/720 ml bottle


Fukucho "Moon on the Water" Junmai Ginjo Namazake (Hiroshima)           
A little rice sediment is visible and the nose shows notes of pine needles, oranges, cloves, ginger, and persimmon.  Lively and fairly acidic on the palate (nearly carbonated!).  Juicy and sharp melon flavors contrast nicely with the sake's soft texture.
 $55/720 ml bottle


Ama no To "Heaven's Door" Tokubetsu Junmai Namazake (Akita)              
Salt and mineral essences.  The medium body and soft texture make it a good "food sake" (parmesan cheese will be delightful).  Vaguely sweet, though with a drier, somewhat sharp finish and a touch astringent in the end.  $50/720ml bottle


Masumi "Arabashiri" Junmai Ginjo Nama Genshu (Nagano)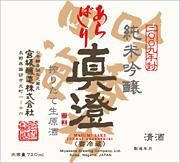 Saké Nomi's most popular limited seasonal release returns!  Fruity (melons and pears) and full-bodied, with a pleasantly crisp acidity.  This nama (unpasteurized) genshu (undiluted saké) also packs a lovingly assertive punch at 17-18% alcohol.
$50/720 ml bottle



'Sorry if you feel like you've heard this before, but we don't want you to miss your chance to experience these very limited release treats.

As always, thanks for reading, thanks for your continuing encouragement and friendship, and we can't wait to see you again at Saké Nomi.
Arigatou, and Kanpai!
Johnnie & Taiko