Greetings, Nomidachi!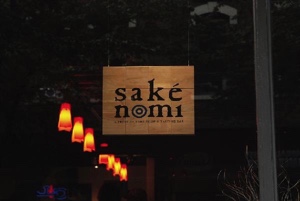 Let's make that Season's Greetings!
We realize this time of year is super busy and action-packed for most folks, and we just wanted to let you know that we'll be doing what we do on a slightly modified schedule as we usher out 2018.
Holiday (and non-Holiday) Hours
Thursday (12/20 & 12/27): 5- 10 pm
Friday- Saturday (12/21-22 & 12/28-29): 2- 10 pm
Sunday (12/23 & 12/30): 
CLOSED
due to Seahawks' home games
Monday (Christmas Eve & New Year's Eve):
OPEN
Noon- 5 pm
Tuesday (Christmas & New Year's Day):
CLOSED
Wednesday (12/26 & 1/2): 2- 10 pm

We hope that about covers it.

2018 was a pretty rough and challenging year for Saké Nomi and the Pioneer Square neighborhood, and we sincerely appreciate your friendship and support throughout the year.  We hope we'll have a chance to see you and raise a glass or two of holiday cheer before year's end, but if we don't, please enjoy a safe and joyful holiday season.
Merry Christmas & Happy New Year!
Arigatou, and Kanpai!
Johnnie & Taiko