Happy New Year!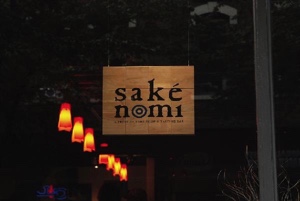 We hope everyone has enjoyed a fun, relaxing, and revitalizing period to end 2017 and usher in 2018.  We have certainly enjoyed having the family together and being able to spend some time with our collegians, and we're ready to embrace the opportunities and challenges of the Year of the Dog. 

Thank you for making 2017 a pretty great year, and we thank you in advance for looking favorably upon our sake-related efforts in 2018 (In very simplified Japanese, "yoroshiku onegai shimasu").
Weekend Hours
Things are pretty much back to normal, as far as operating hours go.
Friday- Saturday: 2- 10 pm
Sunday: 2- 6 pm
2017 Sake of Note
In newsletters at the beginning of past years, we've listed what turned out to be the best-sellers from the previous year as kind of a summary and survey of how Seattle sake drinkers' tastes are shaping up.  The list is usually heavily weighted toward limited seasonal releases (especially namazake), many of which will not be available again until late spring.

Rather than tease you with something you can't get your hands on right away, the following short list contains sake of note that we have thoroughly enjoyed, and, in theory, you have access to year-round, including RIGHT NOW.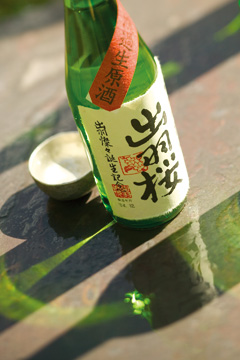 Dewazakura Dewasansan Junmai Ginjo Nama Genshu (Yamagata)                  
Greenish gold tint, with aggressive aromatics of grass, straw, sweet pastry, cinnamon, and banana.  Light mouthfeel, with a very dry, astringent finish.  An overall lively presence, with the sake letting you know it's there, and it means business.  $45/720 ml bottle
 


Choryo Yoshinosugi no Taruzake Omachi Yamahai Junmai (Nara)                   
The English transliteration is a mouthful, but there's a lot going on with this cedar barrel-aged taruzake. Pretty significant yellow coloring, with aromas of cedar, brown sugar, and faint licorice. Soft, slightly viscous mouthfeel, with a definite mild koshu (aged sake) element present. We think it shows its best stuff at room temperature or slightly warmer. $42/720 ml bottle

 
Daishichi Yukishibori Honjozo (Fukushima)
                               
This kimoto-style lightly sparkling nigorizake has aromas of pears and white peaches.  It is light, clean, and faintly mineral on the palate.  Johnnie's tasting notes declare enthusiastically, "Here is your champagne for oysters!"  Serve well-chilled.
$60/720 ml bottle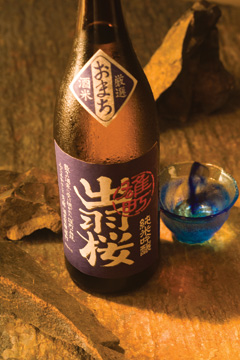 Dewazakura "Omachi" Junmai Ginjo (Yamagata)          
Greenish gold in appearance with notes of minerals, earthiness, and candied melon in the nose.  Soft and silky, and while the impression on the palate is one of pronounced fruitiness, with melon and citrus accents, it finishes dry.  Overall, semi-dry, thus lending itself to "session" drinking, where it is neither overwhelming nor pedestrian. 
$45/720 ml bottle (Featured on this week's tasting menu)

 
Eiko Fuji Namachozo Junmai Ginjo (Yamagata)                               
Savory candied fruit notes of green apple, papaya, and banana.  Fruit forward, but with a dry finish.  Undergoing just one pasteurization, it's soft, light, and "zingy" (according to Taiko).  $65/720 ml bottle (Featured on this week's tasting menu)



Other Sake Featured on This Week's Tasting Menu 

Manotsuru "Four Diamonds" Junmai Ginjo (Niigata)       
Clean & soft.  Coloring reminiscent of golden roses.  Clean scent of sea breeze in the nose.  Soft, billowy, velvety texture to the mouthfeel, with slight minerality and a tingling nama-esque finish on the palate.  $40/500 ml bottle

Kaiun "Better Fortune" Junmai Ginjo (Shizuoka)                         
A New Year's tradition like no other!  Intriguingly elusive, drinking one minute dry, the next minute sweet and displaying a gentle, layered balance of sweet, dry, and astringent elements.  Golden tint due to lack of charcoal filtration -- the spring water source is so pure, no filtration is required.
$95/1.8 L bottle; $50/720 ml bottle; $25/300 ml bottle

Kokuryu "Black Dragon" Junmai Ginjo (Fukui)                     
Light yellow tinge, with soft banana notes in nose.  Soft, silky mouthfeel, with a mellow sweetness and settled richness on the palate.  Clean, sleek, and full of umami.
$98/1.8 L bottle; $45/720 ml bottle

Kikusui Junmai Ginjo Hiyaoroshi (Niigata)                             
Very limited seasonal release!  Mildly sweet suggestions of citrus, honey, and yeast in the nose.  Soft, clean, and medium-bodied.  The dry finish makes this a particularly "food-friendly" junmai ginjo.  $40/720ml bottle
With that, we'll begin 2018 by keeping things relatively short and, hopefully, sweet.  Thanks for reading.  
Arigatou, and Kanpai!
Johnnie & Taiko