Greetings, Nomidachi!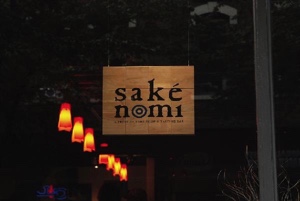 We hope you're enjoying the Seattle summer as much as we are!

Since the WonderTwins are home for the summer (and it might be the last one for a while), we made the decision to close the shop on Sundays during July and August.  While we apologize for the inconvenience to weekend shoppers and visitors, Johnnie regrets not making this decision earlier, when our daughters were younger.  We appreciate your understanding and flexibility regarding this very personal state of affairs. 

We mentioned this on Facebook recently, but we'd also like to thank you for your faithful support and patronage during this latest round of Pioneer Square's growing pains.  WE know that YOU know that we don't have any control over the construction and traffic modifications that continue to take place in our beloved Seattle's original downtown, and the powers that be are not making things easy for you or us, in terms of access, parking, etc. 

All the same, because of your kind and often passionate patronage, we were able to recently mark our 11th anniversary as an ongoing commercial endeavor and gathering place for those who appreciate, love, or are even a little bit curious about the miraculous beverage we're so enamored of.  YOU, Nomidachi, sustain us, and we'll never be able to adequately express our gratitude and humility.

All we can say is Kanpai, and let's keep keeping on, together! 
Seasonal Sake Arrival: Denshin Natsu "Summer"
We're excited to announce that Denshin Natsu ("Summer") Nama Junmai Daiginjo is available once again (arriving today!), and doubly pleased that we're able to offer it at the same price as last year!  In case you need a reminder:
Denshin Natsu "Summer" Junmai Daiginjo Namazake (Fukui)
Denshin puts out a different namazake bearing each season's name.  Natsu ("Summer") is a gravity-dripped junmai daiginjo made from top quality Yamada Nishiki rice milled to 50% of its original size.  Here's what the importer has to say about it:
"This is a limited seasonal product from DENSHIN series for summer. A Daiginjo Namazake (Unpasteurized) which is pleasant fruity aroma, and transparent feeling when it goes down your throat. For the pressing process, we use "FUKURO-TSURI". This method is to let the bags which each contain 10L of moromi (mash) hang inside of the tank, so that gravity is the pressure. We collect only dripping liquid and bottle it."
Our tasting notes look like this: "One of Saké Nomi's most popular limited seasonal releases.  Sunflower yellow tint with notes of honeysuckle, chamomile, and roasted marshmallow in the nose.  Soft, creamy mouthfeel, with significant weight.  Rich, mellow, and clean, but with a hint of smokiness."

We'll be pouring Natsu by the glass and also selling it by the bottle today and tomorrow, continuing for as long as supplies last.  If you're interested in ordering a few bottles and having us hold them for you, pricing/ordering is as follows:
Price: $60/720 ml bottle (10% discount on orders of 6 or more bottles)
Order by: Noon Saturday, July 21
In-Store Availability: Tuesday, July 23
We apologize for springing this on you last-minute, but we just found out about availability, and we don't want you to miss out on this popular gem.

If you have any questions about this sake or any of our other offerings, please get in touch.

As ever, thanks for reading.  We hope to catch up with you at the shop soon!
Arigatou, and Kanpai!
Johnnie & Taiko