Hello, Nomidachi!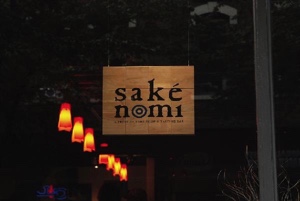 We've got some great, rare sake available, and this is just a quick note to introduce a couple to you, and to remind you of our special "holiday hours" this weekend.
May 26-27 (Sun.- Mon.): CLOSED in observance of Memorial Day
We'll be operating our normal hours, for the most part, this week.  However, we will be CLOSED on Sunday, May 26 and Monday, May 27 in observance of the Memorial Day holiday.  Please stop by before then to pick up something fun for the weekend!

New, Rare Saké Arrivals
 Just in time for the holiday weekend, we're excited to announce the arrival of a couple great sake we only see a couple times a year.  They are: 
 
Isojiman Junmai Ginjo (Shizuoka) 
Dark straw/hay coloring, featuring aromas of apple, grape, and a bit of dates.  Super full, plump mouthfeel is nicely contrasted with absolutely perfect acidity. Drinking somewhat fruitier than what its +5 SMV would lead you to believe, this sake is very well-suited to wine drinkers who may not yet have been exposed to premium sake.  
$65/720 ml bottle (extremely limited availability: less than 1 case left)
Zaku Ho No Tomo Junmai (Mie)
Brand new to Washington!  Perfumed "ginjo-ka" floral nose of honeysuckle and faint smoke.  Light, silky texture, with green grape, apple and young fruit on the palate.  The suggestion of astringency and bitterness of green apple skin becomes more noticeable as the sake warms.  Basically, a junmai ginjo, masquerading as a prize-winning junmai.  $45/720 ml bottle 
Thank you for reading.  We hope to see you at Saké Nomi again soon, and we hope you enjoy a fantastic Memorial Day holiday with family and friends (and good sake).
Arigatou, and Kanpai!
Johnnie & Taiko