Greetings, Nomidachi!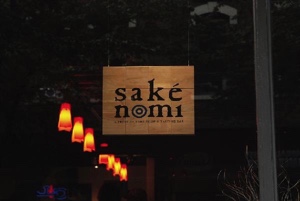 As we've probably mentioned before, this is a great time to be a sake drinker!  There are more high-quality premium Japanese sake available to us now than ever before.
In the coming weeks, we should see a number of new, outstanding sake selections, and we'll be sure to make them immediately available and give them some exposure via our weekly rotating glass pour menu.

One of the new-to-Washington breweries and brands we are featuring this week is KID from Wakayama prefecture's Heiwa Shuzo (est. 1928).



Heiwa and their KID brand have been making some waves in the Japanese sake brewing industry the last few years, and they regard their efforts as a necessary "revolution" to bring Japanese sake to a new, modern era.

When Yamamoto-san, the current 4th generation brewery owner, quit his venture capital job back in 2004 to join the family business, he recognized a couple issues he needed to immediately address: the relative lack of younger brewery workers, and the fact that young Japanese people weren't drinking much sake.  He confronted these challenges by hiring new college graduates and launching the "entry level" brand for sake "newbies," KID.

At Heiwa Shuzo, they've instituted what might be called a "responsibility system" approach to brewing, whereby all the employees are personally responsible for managing the production of a certain number of tanks of sake (new hires are responsible for 5 tanks!).  The philosophy behind this approach is that by accepting this responsibility, the kurabito (brewers) will experience the joy and happiness of creating something, rather than just performing a defined set of duties by rote.  All the brewery staff also rotates to participate in promotional tasting events out in the market so they have direct contact with the consumers of the sake they make.

In the space of about 10 years or so, Heiwa Shuzo has transitioned from a brewery for whom 99.9% of their production volume was "paper carton" sake that was indistinguishable from the large sake producers, to a leader of the charge to bring the "minority culture" of sake to a larger, more international audience (they are currently exporting to 13 countries).

This week we are featuring the brewery's excellent KID Junmai

and KID Junmai Daiginjo.  In keeping with the KID brand's philosophy and goal of increasing the number of younger (completely legal) sake drinkers, their sake is soft, relatively low alcohol (14.8% ABV), with a balance to highlight umami.  Food friendly, "session" friendly, and budget friendly are all hallmarks of this direct and playfully named brand.

We hope you'll have a chance to visit Saké Nomi soon and meet the new KID in town.
Hours of Operation This Week
The Seahawks are away, so your sake oasis is definitely in play this Sunday.

Tues.- Wed., Fri.- Sat.: 2-10 pm
Thurs.: 5-10 pm
Sun.: 2- 6 pm
Arigatou & Kanpai!
Johnnie & Taiko