Hello, Nomidachi!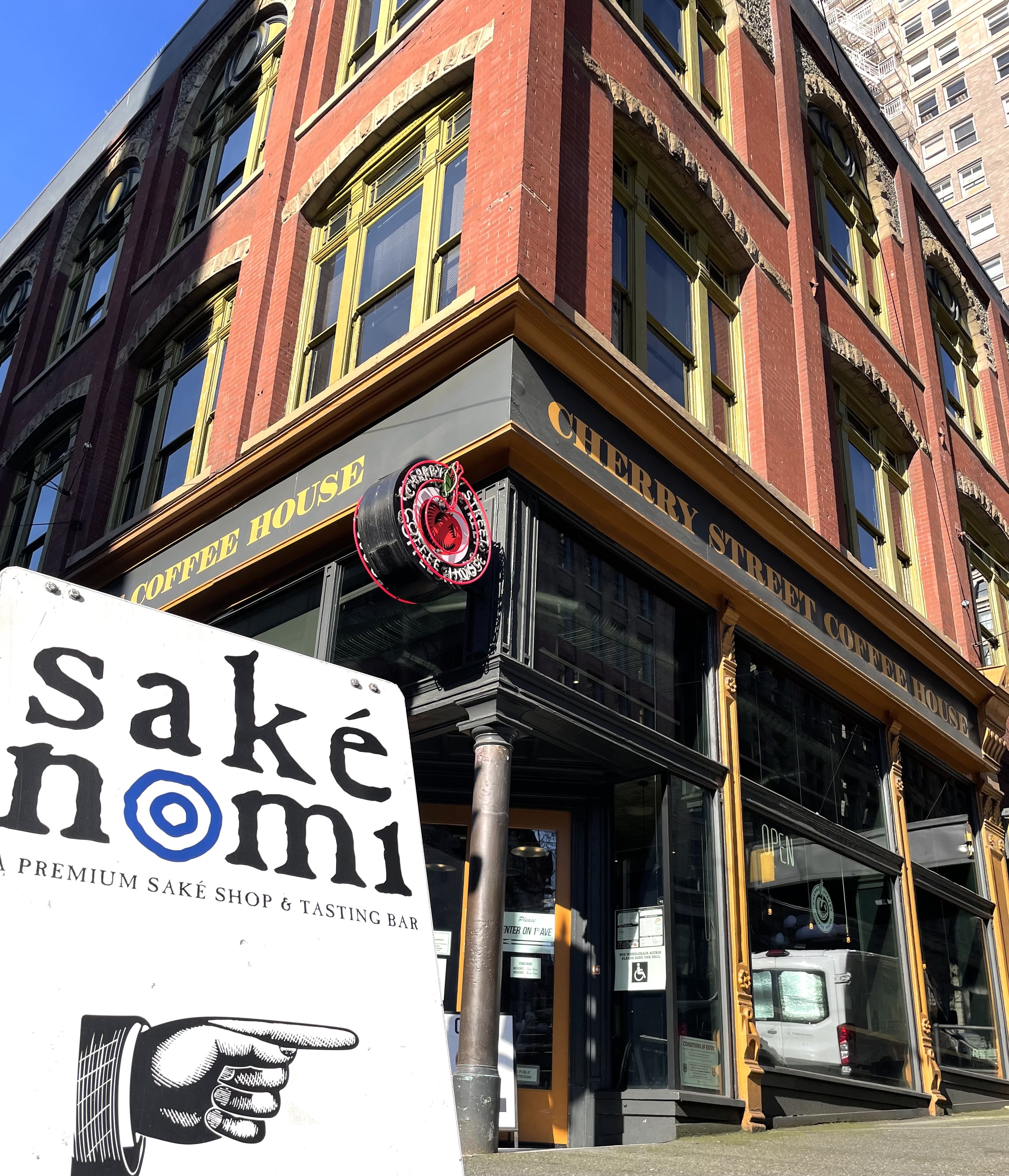 It has been incredibly heartening (and just good for the soul) to see so many of you during our first month of Saké Nomi 2.0!

Reconnecting with you is of such vital importance to us that our typical evening exchange is not, "How was your day?" or "How was business?" but "Who'd you see today?"

Thank you for not forgetting us on account of our involuntary down time at the end of last year.

We're still getting back into the swing of things and reactivating the "saké muscles" we'd built up over the past decade, and our new digs are slowly and surely beginning to feel like home.

In appreciation of your support, and maybe to help limit your trips out and about during this critical time battling the virus, we're offering some discount pricing deals (2-pack & 3-pack), providing an incentive (we hope) for you to explore multiple sake from the same producer.

(PLEASE NOTE: Pricing posted below is regular retail price before the discount is applied.) 

We've also still got a pretty good supply of the spring namazake mentioned below, so if you want to add some of those to a 2- or 3-pack purchase, we'll piggyback them onto the 10% discount deal.

As ever, thank you very much for your friendship and support, and we look forward to raising a glass with you in the near future.

Kanpai!
Johnnie & Taiko
 

New Sake Arrival: Daikoku Masamune
We are absolutely thrilled to be able to introduce a trio of brews from Kobe, Hyogo prefecture's Yasufuku Matashiro Shoten, under their flagship label, Daikoku Masamune.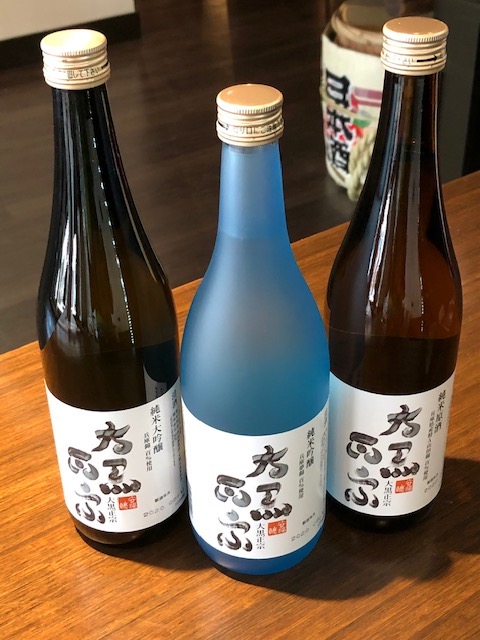 Established in 1751, the brewery is one of the smallest in the famed Nada brewing district, and probably one of the most beloved by the locals and sake enthusiasts "in the know."

As the importer (Oregon's SakéOne) tells it: "Daikoku Masamune has always had a cult-like following in Kobe, Japan, and their brewery had one of the most celebrated water sources for saké brewing. In 1990, the Kobe earthquake destroyed nearly everything at the brewery, but their loyal drinkers included the leadership at Hakutsuru Brewery. When the president of Hakutsuru learned what befell Daikoku Masamune's brewery, he offered to let them use their facility in Hyogo. Daikoku Masamune took them up on their gracious offer but decided that to keep their saké true to its roots; they brought the water via tanker, from their original source near the old brewery."

Though we are still in the glow of just becoming acquainted with these brews, we think they are extremely well crafted, very delicious, interesting, and tremendous sake values in their grades. Please give them a try, enjoy them, and enjoy some extra savings, while you're at it, by hitting the Daikoku Trifecta!

DAIKOKU MASAMUNE
"INFINITE BEAUTY"
Brewery: Yasufuku Matashiro Shoten (est. 1751)
Region: Hyogo (Kobe)
Type/Polish Ratio: Junmai Daiginjo/50%
Tasting Notes: Mild sunflower golden tint. Balanced fruit with elegance, depth of flavor, a confident presence, and sharp finish. A sake of substance!
Price: $60/720 ml (10% discount in Daikoku "3-pack")


DAIKOKU MASAMUNE
"INFINITE WISDOM"
Brewery: Yasufuku Matashiro Shoten (est. 1751)
Region: Hyogo (Kobe)
Type/Polish Ratio: Junmai Ginjo/60%
Tasting Notes: Very slight amber color, with floral, minty, and melon aromas. Light mouthfeel, with elements of tangerine, citrusy sourness, brightness, and faint salinity.
Price: $35/720 ml (10% discount in Daikoku "3-pack")


DAIKOKU MASAMUNE
'INFINITE STRENGTH"
Brewery: Yasufuku Matashiro Shoten (est. 1751)
Region: Hyogo
Type/Polish Ratio: Junmai/60%
Tasting Notes: Light, shiny greenish gold tint, with a nose suggesting persimmon and brown sugar. Soft, light texture and nice body. Gentle sweetness with traces of astringency and young fruit tartness. Tremendous value and quality – it punches well above its junmai weight class!
Price: $32/720 ml (10% discount in Daikoku "3-pack")




The Return of "Best in the East," Azumaichi
While we don't see a lot of sake from Kyushu in southwest Japan (it's definitely "shochu country" down there), some of our absolute favorites originate there, including these couple from Azumaichi which arrived this past weekend. We're thrilled to welcome them back to the shelves after an extended absence due to hiccups in the supply chain.


AZUMAICHI
"BEST IN THE EAST"
Brewery: Gochoda (est. 1922)
Region: Saga
SMV: 0
Type/Polish Ratio: Junmai Ginjo/49%
Tasting Notes: Greenish gold coloring, with tropical fruit and sweet grain aromas.  Fruity, lively, and nama-esque (like an unpasteurized saké).  Exquisite balance and harmony of acidity and astringency.
Price: $60 (10% discount in Azumaichi "2-pack")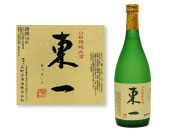 AZUMAICHI
YAMADA NISHIKI JUNMAI
Brewery: Gochoda (est. 1922)
Region: Saga
SMV: +/- 0
Type/Polish Ratio: Junmai/64%
Tasting Notes: Soft and billowy texture, with an elegant aroma of grains and steamed rice.  Defined, sturdy body, with subtle depth and umami.  Strikes a delicious, delicate balance between the dry, sweet, and tart flavor elements.
Price: $40 (10% discount in Azumaichi "2-pack")



Welcome to WA 3-Pack
Featuring new label, Izumibashi (est. 1857)
This time, featuring our tasting notes

We've been desperately trying to get our hands on sake from Izumibashi for years, and during the past couple months we were privileged to take part in a couple online sessions with the brewer, serving only to intensify our unquenched desire.

As the importer explains, "Believing that good sake is made with good rice, Izumibashi is one of the few breweries in Japan that polish AND grow their own sake rice with their own hands. The name Izumibashi comes from the Izumi river which is used to irrigate their fields, and Hashi, their family name - together Izumibashi means 'Izumi Bridge.'"

Because the distributor still has some available stock, we're reviving the "Welcome to Washington" promotion, offering a 10% "3-pack" discount price if you pick up one of each.

IZUMIBASHI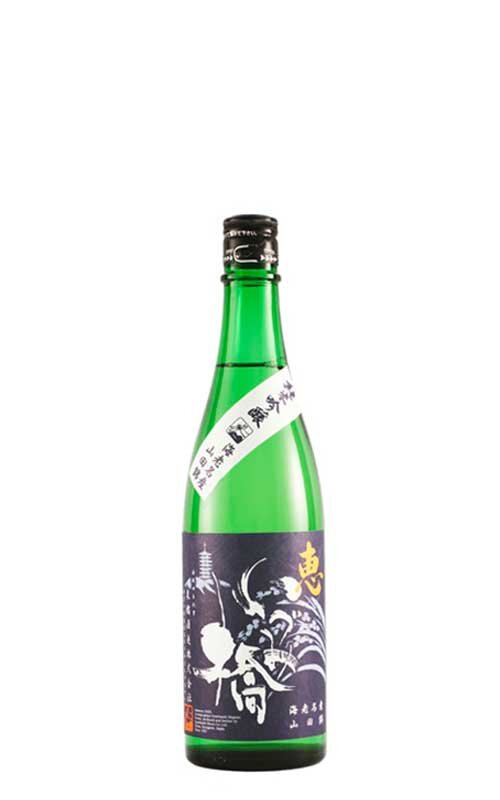 MEGUMI "BLUE LABEL"
Brewery: Izumibashi (est. 1857)
Region: Kanagawa
SMV: +7
Type/Polish Ratio: Junmai Ginjo/50-58%
Tasting Notes: Deep greenish gold coloring with a nose of bread, yeast, wheat, sweet flowers, muscat, and strawberry. Full-bodied, with a strong, comforting presence. Hint of raspberry on the palate before the dry finish.
Price: $55/720 ml (10% discount in Izumibashi "3-pack")



IZUMIBASHI
KUROTOMBO
Brewery: Izumibashi (est. 1857)
Region: Kanagawa
SMV: +10
Type/Polish Ratio: Junmai/65%
Tasting Notes: Pronounced dark gold color with sweet notes of cupcake or birthday cake. Rich-bodied umami and a hint of tanginess. Super smooth with citrus notes and surprisingly more acidic when gently warmed.
Price: $60/720 ml (10% discount in Izumibashi "3-pack")


IZUMIBASHI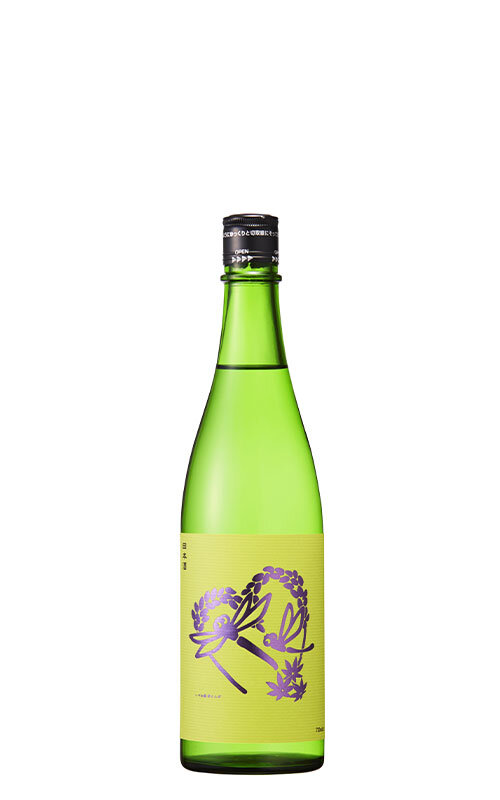 AKI TOMBO RAKUFUMAI
Brewery: Izumibashi (est. 1857)
Region: Kanagawa
SMV: +4
Type/Polish Ratio: Junmai Ginjo/55%
Tasting Notes: Greenish gold coloring with Asian pear and sweet grass in the nose. White wine-like in its tartness and astringency and, perhaps, drier than the SMV +4 would suggest. Room temp seems just right.
Price: $55/720 ml (10% discount in Izumibashi "3-pack")



Limited Seasonal Release Namazake
Still possible for you to experience the "zing" of spring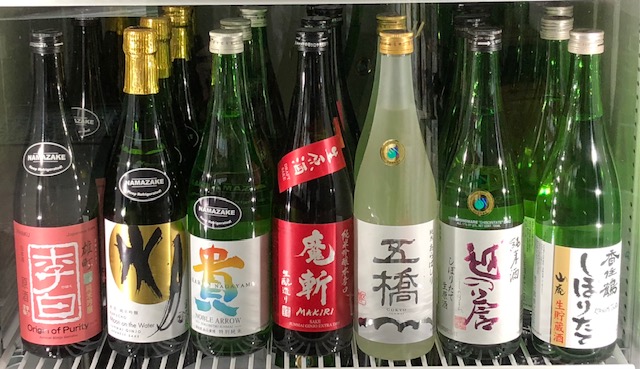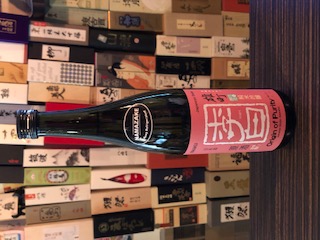 Rihaku "Origins of Purity" Junmai Ginjo Nama Genshu (Shimane)                   
Fairly pronounced golden tint, with aromas of peach, mango, kiwi, nectarine, and a touch of mint.  Silky, soft mouthfeel, with citrusy flavors of young fruit on the palate.  Richness and depth of flavor with an overall impression of being substantial but not overpowering.
$60/720 ml bottle
 

Fukucho "Moon on the Water" Junmai Ginjo Namazake (Hiroshima)                
The nose shows notes of pine needles, oranges, cloves, ginger, and persimmon. Lively and fairly acidic on the palate (nearly carbonated!).  Juicy and sharp melon flavors contrast nicely with the sake's soft texture.  $60/720 ml bottle
 

Taka "Noble Arrow" Tokubetsu Junmai Namazake (Yamaguchi)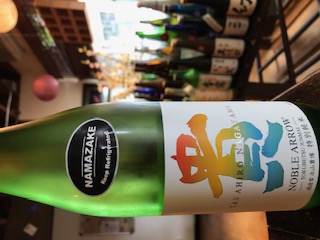 Golden, slightly hazy coloring with vaguely citrus and mineral notes in the nose. Soft, pretty mouthfeel. Mildly sweet, but with tart, almost sour accents, as well. Nice acidity and a finish that kind of hangs around.  $50/720ml bottle